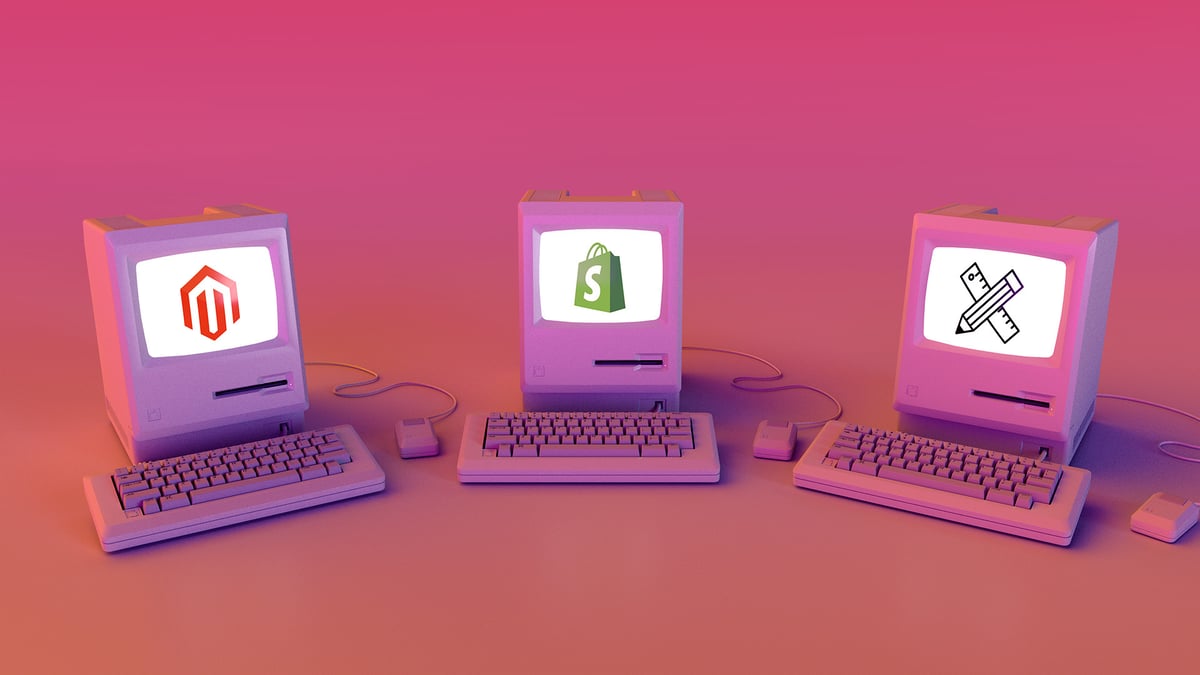 What exactly is the right e-commerce platform for us? Online retailers have wrestled with this question as they have started their businesses and set new growth goals. In this article, we have put together a comparison between Shopify, Magento and a customised online store and aim to present clear pros and cons of each option.
We chose these platforms for comparison as they are the most popular and fastest growing technology solution platforms for large online stores. We also know these systems best: Crasman designs and implements Magento online stores, Shopify online stores and customised e-commerce solutions.
Overview of the systems
1. Shopify
Shopify is a cloud-based online shopping platform used by over one million online stores in 175 countries. Established in 2006, Shopify is known for ease of use, speedy commissioning, abundant range of properties and a large partner network (more than 42,000 partners) that produces Shopify's features of extension applications (over 6,000 applications).
Pricing
Shopify offers a wide range of price levels for various online retailers: sole entrepreneurs can get down to business paying €29/month for the Basic level solution and can increase system capability as the business increases. The price points are €29/month, €79/month, €299/month and Shopify Plus for large operators at +€2000/month.
In addition to the monthly fee, Shopify takes a slice of purchases made through online stores. Shopify's own payment service, Shopify Payments, is not available in Finland. This means that Shopify partners with either Stripe, Paytrail, Checkout or Klarna for receiving payments.
In such a case, Shopify charges 0.5–2% of the total sales commission, depending on the monthly package in use. The costs of an external payment intermediary (Paytrail, Checkout or Klarna) range from 1–3% per purchase and can best be found from each payment intermediary's own website. Of course, it is worth noting that the fees of payment intermediaries are the same regardless of the e-commerce platform used.
The features of the Shopify store are typically enhanced with paid applications, which also contribute to increasing the monthly costs.
Shopify does not charge an annual licence fee. Technology and maintenance costs are baked into the monthly fee.
A comprehensive partner network is available to build a versatile or more specialised Shopify store, but a simple online store can also be set up via a browser-based graphical user interface without coding.
The future
Shopify is a listed company and presents its long-term strategy in, for example, its annual reports. Shopify's strategy is to strengthen the platform at the heart of the company and further expand the business on it.
As a medium-term goal, Shopify continues to announce internationalisation as well as the development of a retail POS system. The most interesting of the longer-term goals are the building of our own distribution network and providing services on the wholesale and B2B e-commerce side.
Shopify's pros
Clear and predictable pricing
Excellent usability
Scales to online stores of different sizes, with room for growth
Good interfaces
Fully cloud-based solution
Extensive ancillary services for online retailers through apps and the Shopify ecosystem
Shopify's cons
Higher costs when the turnover of the online store is large enough (0.5–2.9% of turnover, e.g. with 0.5% of sales of €10,000,000, the transaction share comes to already €50,000 per year).
In basic versions, Shopify's purchase pipe and functionalities are very similar (but work very well), with little room for customisation
The limits of customisation become apparent at some point in the basic versions of Shopify, however, Shopify Plus offers almost unlimited customisation possibilities
Magento
Magento is an e-commerce platform provided by Adobe. It is especially popular as a platform solution for medium and large online stores.
The development of Magento began in 2007 and the development of the platform has been driven by several different commercial players. Magento ended up in Adobe's portfolio in 2018.
Magento offers an open source version of Magento Open Source (formerly Community) and a commercial licence-paid version of Magento Commerce (formerly Enterprise). Magento can be hosted either in a cloud solution (Magento Commerce Cloud) or as a standalone installation in a company's or external service provider's own server environment.
The biggest advantage of Magento compared to Shopify and the customised solution is the large number of ready-made functionalities, the cost-effective creation of extensions, and the ability to finally customise just about everything – from the core of Magento.
Magento also has more basic functionality than Shopify, especially for B2B e-commerce. Also not to be overlooked is Magento's "sister product", the Akeneo PIM system for managing large product masses, which connects seamlessly to Magento.
Pricing
The lowest level of Magento pricing is achieved by installing Magento Open Source in the company's own server environment. In this case, there is no licence fee and the cost consists of project work related to the installation, configuration and customisation of the store.
The size class of the project work varies depending on the operator, the quality and the desired characteristics. Typically, the start-up cost of Magento projects begins at EUR 20–30 thousand and increases with the desired features and complexity.
In addition to the project work, there will be monthly hosting and maintenance costs, which at a reasonable service level start from EUR two hundred upwards.
The commercial Magento Commerce licence supported by Adobe is available from EUR 25–30 thousand per year. The hosting solution can be managed with exactly the same server solutions as for Magento Open Source. The Magento Commerce licence brings a significant number of powerful functionalities and features to the online retailer.
With the Magento Commerce Cloud option, online store hosting is produced by Adobe as a cloud service. The technical infrastructure in this option is built to be truly efficient and will operate in the Amazon AWS cloud environment on a Software-as-a-Service basis.
Magento Commerce Cloud thus brings with it the rich functionality of the commercial version as well as worry-free and scalable cloud-based maintenance.
The pricing of the Magento entity will be determined through negotiations, but in any case we're talking about tens of thousands of euros per year. Pricing is based, at least in part, on the online store's revenue category.
Magento reaches its full potential when the business is large enough and the store maintenance is professional.
The future
Magento's transition to Adobe's portfolio in 2018 raised many questions about its future. The system has a solid user base and is the leading e-commerce platform in several segments.
For start-ups, the Magento Open Source version also offers really extensive functionality without transaction fees at the Shopify level (in the case of Magento, the transaction fee is paid to the payment service provider). With themes, add-ons, and interfaces, Magento stores can be quite freely integrated and expanded in the direction you need.
The continuous growth of e-commerce also makes Magento particularly attractive to its new owner. Adobe is working hard to integrate Magento into its other offerings (Experience Cloud, Advertising Cloud, Marketo Engage, etc.), making it a viable option for an online retailer with significant growth on the horizon.
Magento's pros
Extensive large e-commerce features for immediate use, with an open source solution
No transaction-specific fees charged by Magento (however, the payment intermediary charges 1–3% of the transaction fee and a flat fee for its own service)
Wide user base: lots of extensions and partners available
Highly expandable and integrable
Magento is fully customisable and extending its functionality is cost effective
Scales well as the e-commerce grows
Magento's cons
Reasonably laborious to develop: the development of a distinctive and customised store is a relatively large project
The benefits of the Magento Commerce version will only be available with significant annual licences
Maintaining the infrastructure required by Magento requires special expertise
Customised e-commerce solution
A fully customised e-commerce solution is still a very popular option when the online store's turnover is large enough and the development needs are individual.
Purchasing software development for e-commerce seems expensive and inefficient at first, but there are good reasons for it.
Often, a customised solution is at its best when other business back-end systems already handle the lion's share of the functions that a finished e-commerce product would provide (e.g., product information management, pricing, ledger and distribution functions).
In this case, the finished product would contain a lot that is of no use and might be ill-suited to existing operational processes. Then a customised e-commerce solution is a smart solution due to both cost and flexibility.
A customised e-commerce solution often acts as a node integrating several different systems and provides the online store's end customer with a complete user interface that is backed by other systems that handle heavier functionalities.
Built entirely according to needs, the entity also offers brands the opportunity to differentiate themselves in a market where there may be a dozen similar entities built with the same finished products. Unique customer experience has value.
The future
The future of customised e-commerce also looks bright – the transition to cloud technologies has made building scalable technical infrastructure even easier and cheaper. It may also be essential for a company to keep control of its own business entirely at its own pace.
The global winds of Shopify or Magento cannot be meaningfully influenced by a single player, but the code base they own can always be made with a good partner.
Pros of a customised online store
Full control over the core system of your business
Flexible integration with other back-end systems
Differentiation from competitors
No transaction or licensing costs brought by the platform (however, the payment intermediary charges 1–3% of the transaction fee and the flat fee for its own service)
Cons of a customised online store
Developing a customised online store pays off
Partner selection plays an important role
Requires competent software development guidance, maintenance of the old code base and systematic renewal
Platforms in comparison
Shopify

Magento

Customised e-commerce solution

Establishment cost

Starting from 8 000 €

Starting from 25 000 €

Starting from 50 000 €

Monthly cost

Starting from 29 €

Starting from 250 €

Starting from 1 000 €

Licence cost

0 €

0 €/~25 000 €

0 €

Platform transaction cost
(In all solutions, the payment intermediary's transaction fee is 1-3 % + payment- specific costs)

Starting from 0,5 - 2,9 %+ 0,30 € per transaction

0 €/licence cost tied to annual revenue category

0 €

Suitable for small operators

+++

++

-

Adapts to unexpectedly growing network traffic (e.g. flash-sale)

+++

++

+++

Adapts to fast-growing business

+++

++

+

Quickly adapts to the international transition from the domestic market

+++

++

+

Skills required for maintenance

+

++

+++

Ease of layout customisation without coding skills

+++

+

+

Adaptation to other background systems

+

+

+++

Control of the direction of development

-

-

+++

Cost level of further development

€€ (in the form of a monthly fee for extensions)

€€

€–€€€

Payment methods

Freely
selectable

Freely selectable

Freely selectable

Partner offering

++

+++

-

Add-ons available

+++

+++

-

Customisation options

+

++

+++

Is anything still vexing you, would you like help with reflecting on your system? Get in touch!