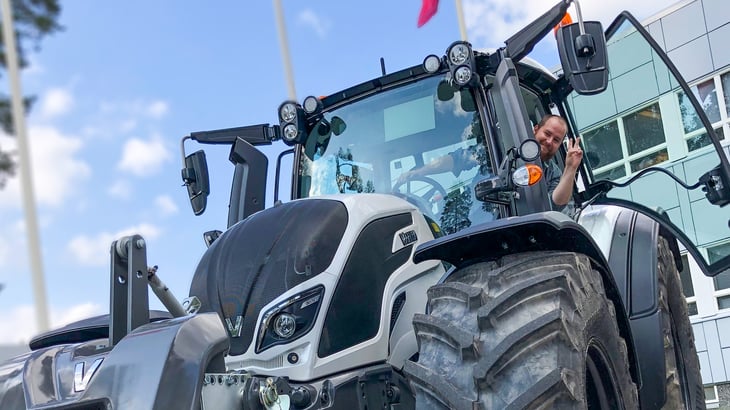 Can Valtra replicate the success of its German model in U.K. No one knows yet – nor do they need to, because growth marketing is a set of educated guesses that can be skilfully honed to perfection.
A moderate budget and an ambitious goal: to get a thousand leads at Agritechnica, the world's largest agricultural technology event.
Valtra and Crasman's growth marketing team took up the challenge and formed a strategy. Digital strategist Mika Sormunen set up the campaign, monitored the results, reacted quickly and achieved the goal. How?
Analytics sheds light on customer acquisition
The partnership between Valtra and Crasman began in 2018 as part of a digital strategy. Valtra had embarked on an extensive digitalisation programme: CRM, internal processes, retailer portal, end-user experience, website – everything was scrutinised closely under the microscope.
"In Finland, Valtra is the leading manufacturer of tractors, but we have a more challenging situation in Central Europe," says Pamela Engels, Valtra's Director of Communications and Digital Marketing.
In order to combine customer needs and Valtra's offering, the companies expanded their partnership to growth marketing. The team collaborates in developing search engine discoverability, paid visibility, and country-specific analytics.
"Analytics makes everything transparent. For the first time, we know the true price of contact and trade," Engels continues.
From an educated guess to targeted marketing
Successful growth marketing is always based on purposefulness, industry expertise and target group knowledge.
Natural visibility requires site development, while paid traffic requires ad optimisation. There are a number of educated guesses at the beginning. As data accumulates, ideas that don't work are binned and those ideas that do work become even better.
The budget can't be tied to any one thing and there must be action around the desired content.
"Social media marketing is an unstoppable windmill. Those responsible for it have to be fast and courageous," says Sormunen.
The German model's replicable success story
In the autumn of 2019, Valtra and Crasman's growth marketing team decided to take on an ambitious challenge: to get a thousand leads at Agritechnica, the world's largest agricultural technology event.
"Fairs are the main meeting place in our industry. We wanted to get comprehensive information about visitors both in advance and for aftersales," Engels says in describing the importance of the campaign.
Facebook was chosen as the main channel, with the campaign being conducted in both German and English.
Thanks to close cooperation and quick reaction times, Valtra achieved a goal that was considered almost impossible – a thousand digital leads.
A good partner dares to challenge
The campaign gave rise to a replicable operating model that Valtra will soon be able to test in at least U.K. and Spain. In the spirit of growth marketing, practice demonstrates the functionality of the model and market-specific optimisation ensures results.
"We're working with a good partner. Mika and the other Crasman strategists challenge us to look at new ways," Engels says.
Valtra's website has 21 language versions. Pamela Engels says the intention is to continue search engine optimisation, digital campaigns and analytics development systematically and at full speed.
"It will be interesting to see if in the future we can do only high-quality digital marketing and find customers without attending events at all."
Does your company have a growth marketing challenge that we can help solve? Get in touch so we can talk more!