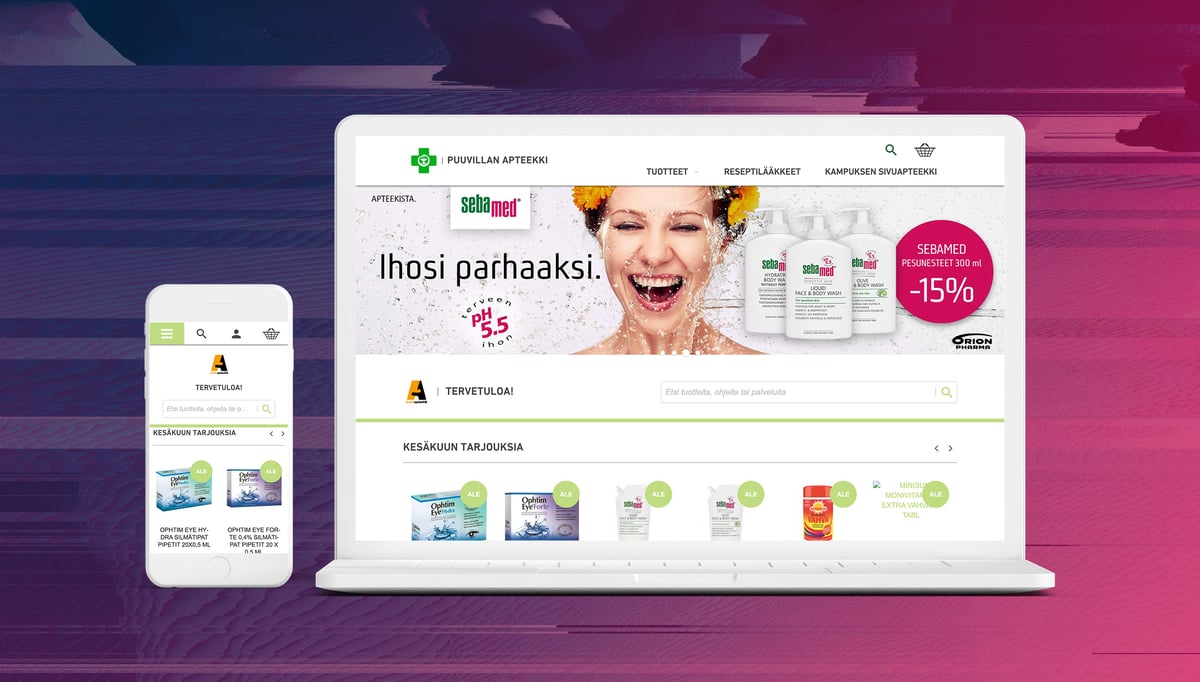 Virtual pharmacists, electronic drug lists, easy repeat orders for regular medication and e-Authorizations – an online pharmacy complements traditional pharmacy services.
Online pharmacies are online sales channels for prescription and over-the-counter medicines and other pharmacy products for pharmacies operating throughout Finland. The operation is not new in Finland, but the demand for online pharmacies has been quite modest so far. When Coronavirus struck, many things changed in the way we do business – including in pharmacies. Few were able to predict an entirely new user base for online pharmacies. Our housebound seniors turned out to be surprisingly digital-ready.

"User numbers showed a spike in spring 2020 quickly, in just a few days. In user statistics, online pharmacy customers over the age of 60 took over from 30-year-olds, who previously formed the largest customer base. For the first time, the group that otherwise uses pharmacy services the most was also the largest on the online side," says Charlotta Sandler, Pharmaceutical Director of the Association of Finnish Pharmacies.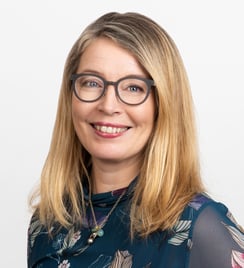 Image: Brandphoto. Charlotta Sandler, Pharmaceutical Director of the Association of Finnish Pharmacies.

So the online pharmacy quickly had to be up to scratch. At the big turning point in the autumn of 2020, Crasman got involved in building a sustainable growth spurt in the pharmacy industry and took over the development of the eApteekki platform created for the Magento ecommerce system.
The demand generated by the new user group requires an easy user interface and secure functionality from the online pharmacy. There are more than 100 online pharmacies operating on the shared cloud platform, and more are coming, as the Association of Finnish Pharmacies expects digital channels to become significantly more widespread in coming years. So what is changing in the pharmacy field?
Pharmacies are being built to be sustainable and service-minded also online
"There will continue to be orders for local pharmacies, but the digital channel offers a new kind of flexibility in services, for example in the form of different delivery methods and remote counselling and services on behalf of others," says Charlotta Sandler.
In Finland, an online pharmacy is linked to an individual pharmacy licence. The arrangement guarantees that pharmacies will continue to serve as a brick-and-mortar business in remote areas. Medicines also need standardised conditions for transportation. That is why warehouses are needed all over Finland, and central warehousing is not even a goal for medicines.
In the online pharmacy, Charlotta Sandler emphasises the health care sustainability and obligation of all pharmacy activities. Not only are medicines bought from a pharmacy, but also advice on their safe use. Personal contact is also established with the pharmacist when ordering prescription drugs online. In addition, other counselling services are available by phone, message and chat, if desired.
Order and pick up – also on behalf of a loved one
Currently, the most common way to use an online pharmacy is to order medicines online from your own brick-and-mortar pharmacy or pick-up locker. This is very local – less than half of the orders are delivered to customers by post or, for example, express delivery by taxi.
You will soon be able to do business on behalf of a loved one in the online pharmacy with suomi.fi power of attorney and identification. This will make it easier for children living in different places, for example, to take care of their elderly parents' medicines. It will also soon be possible to get medicines for your own children from an online pharmacy. Previously, this was only possible in a brick-and-mortar store because the child could not identify himself electronically.
Virtual pharmacists and repeat drug prescriptions
The Finnish pharmacy system is already well digitalised. In Germany, for example, the electronic prescription is only being considered after we in Finland have been using it for ten years.
The online pharmacy will continue this development, and in the future the customer's service path will become even smoother when service challenges, for example with regard to the compensation system, can be solved with the help of officials.
Charlotta Sandler sees nothing but opportunities for online pharmacies in the future. From virtual pharmacists to electronic patient drug lists, to easy repeat orders for regular medication, or to order regular medication in ready-prepared daily sachets – the future of pharmacy services looks like a good combination of local and digital.